Are You thinking of using Instamojo for collecting payments? Let's find out Is Instamojo Safe to collect payments in 2023. You are in the right place. I have been using the Instamojo payment gateway for clients for the past two years.
In today's Instamojo review guide, I will talk about the pros and cons of Instamojo and tell you whether Instamojo is for you or not.
I'll talk about everything you need to know about Instamojo to make an informed decision.
Let's get started!
Instamojo is a payment gateway that allows Indian users to sell products and collect payments online. Instamojo provides customers with payment buttons, smart links and express checkout for shopping online.
Instamojo recently launched Instamojo Premium, which allows you to create more stores and advanced e-commerce features. Instamojo allows you to collect payments using Credit Cards, Debit Cards, UPI, GPay, Paytm, PhonePe and Internet Banking.
Instamojo also provides advanced analytics to track your sales and growth over time. Instamojo's WooCommerce plugin has widgets that you can add to WordPress sites to display product pricing and collect payments with Instamojo.
I will talk about Instamojo pricing plans later in this post.
Instamojo features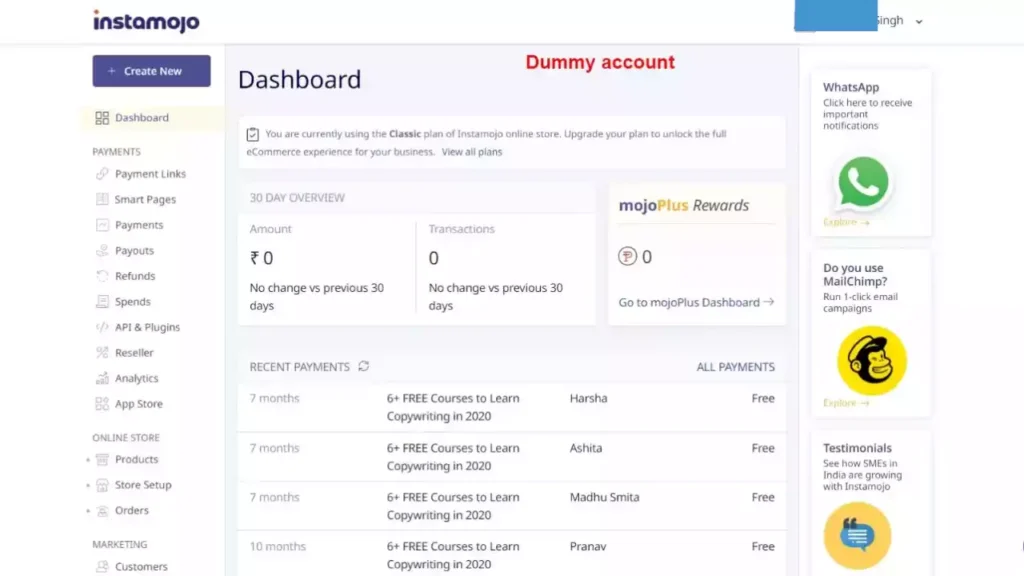 Initially, Instamojo did not offer many features. But right now Instamojo has so many payment gateways and e-commerce features.
Online store creator
Don't have a website? No problem. You can use the Instamojo online store builder and start selling your products.
Own domain
Now you have the option to join and rebrand your online store under your brand name.
If you buy the Instamojo Growth plan, you get a free domain.
Professional emails
With Instamojo, you can create professionally branded emails like support@yourdomain.com.
20+ online store themes
You can change store themes depending on the type of your business.
e-Commerce App Store
You can also access your online store from the mobile application. This is a great feature.
Abandoning and restoring the cart
When a user tries to make a purchase but for some reason does not complete the payment. You can easily follow up on them and increase the sales of your online store.
Built-in CRM tool
Instamojo CRM is very basic. you can't expect much. However, it is good for beginners.
Live chat
Do you want to please every customer? Instamojo offers you a LIVE chat feature that allows you to chat with customers who visit your online store. And chat data is stored in CRM.
Integrated transport
Do you have a physical product? MojoXpress is for you. With mojoXpress you can send products to more than 26,000 PIN codes.
Email and SMS campaign
Having customer contact information is a must for every business. You can run promotional email and SMS campaigns.
Dealer network
This is something I really like. A reseller network allows other people to promote your products for a commission. This means you only have to pay when they bring you customers. You can decide the commission percentage you want to give.
Promotion and discount engine
Want to give an extra discount during the festive season and any special day? This discount feature comes in handy. If done right, it can even increase sales for your business.
Tracking script
You can put your Google and FB tracking ID on your store to promote your store visitors with paid ads like Google and Facebook
---
MUST READ
---
Pros – Things I like about Instamojo
Pages load extremely fast
I use Instamojo to collect payments and our users make payments effortlessly with Instamojo.
Instamojo payment links, buttons pages load fast and support all types of browsers like Chrome, Firefox, Safari and more.
Higher payment success rate
We tested many payment gateways, but we noticed that Instamojo payment gateway has a higher payment success rate.
Dashboard suitable for beginners
The Instamojo merchant panel is simple and easy to navigate. You can effortlessly track sales, refunds and payments.
It is very easy to create payment links and buttons. All you have to do is enter your details and share the link to make the payment.
Accept payments almost daily
Instamojo will send your payment the next day. Instamojo even has an instant payments feature, but you will have to pay additional fees to use it.
Zero setup fees
Instamojo is a freemium platform. You don't have to pay any setup fees. With Instamojo, you can withdraw unlimited payments.
API integration
Want to integrate the Instamojo payment gateway into your app or your existing online store? You can easily do this using the Instamojo API integration.
100+ payment methods
I feel this is why we are seeing a higher payment success rate with Instamojo. Enable your customers to pay through any payment method – credit card, debit card, UPI, wallets, internet banking and more.
App Store payment
Collecting payments and tracking can be a hectic task. A dedicated payment app store will make your life easier when managing things.
The Instamojo app is available on the Google Play Store. You can download it if you want.
Requests for bulk payments
You can request bulk payments from customers by uploading a CSV file to the dashboard.
Convenience fee
If you turn on "Convenience Fee". Your customers will pay Instamojo fees. Harness the power of the convenience fee to use Instamojo for free. Even if I don't like this feature, I wouldn't recommend you to use this feature. You can quote the final price including everything. That would be a better strategy.
Employee accounts
Delegate effectively and free up your time by giving your employees selective access to Instamojo. This allows you to focus on high-value tasks.
Custom notifications for SMS and calls
Set up your own missed call and SMS alerts for incoming payments and more. This feature can be useful for those businesses that deal in high priced items.
Invoicing and accounting solutions
Managing finances is very important. If you don't, it can bring a lot of problems. Subscribe to invoicing and accounting tools and make financial planning seamless.
Refund and Resolution Center
Is your customer not satisfied with your products/services? You can easily refund your customers' payments.
Cons – Things I don't like about Instamojo
High transaction fees
If you are using Instamojo free plan, you will have to pay 5% + ₹3 charges for each transaction. I don't want to pay 5% + 3₹ per transaction.
You will need to purchase the Instamojo premium plan if you want to refund the transaction fees.
After that, the transaction price will be reduced by 2% + ₹3
Instamojo e-Commerce features aren't that great
Instamojo seems to be trying to compete with e-commerce giants like Shopify, Amazon and Flipkart.
This is why Instamojo focuses more on eCommerce features. I checked the Instamojo e-commerce site; it doesn't look great at all.
I can't think of any other cons
Despite some drawbacks, I must say that Instamojo is a great tool for Indian users. It will save you the hassle of collecting payments online. If you are thinking of starting your online business and looking for a reliable payment gateway? Instamojo is for you. you will not regret.
Instamojo support
Now let's talk about support. Support is essential for any business. Instamojo provides email, chat and phone support.
Phone support is very basic. In most cases, you just need to email them and your problem will be solved. Its a answer to your question "Is Instamojo Safe?"
Overall, Instamojo support is fine. Not too great, not too bad.
Instamojo prices
When I started using Instamojo in 2016 and 2017, Instamojo had no paid plans. They only charged transaction fees.
Over time, Instamojo has changed a lot. They launched paid plans. Let's discuss it.
If you want to use the Instamojo store, the Instamojo plan starts at Rs. 3,999/year.
Instamojo's highest plan costs Rs. 9,999/year.
If you want to use Instamojo only for collecting payments, then the transaction fees will be only 2%+3+ GST.
If you use Instamojo payment links, you will have to pay 3% + ₹3 even if you don't subscribe to any paid plans.
An alternative to Instamojo
Knowing any alternative of a product or service is a must these days. If the company is not serving well, you can always go to that company's competitor.
Instamojo's closest and biggest competitor is RazorPay. RazorPay only charges 2% + GST.
However, the payment success rate is not higher in RazorPay. However, RazorPay is a good platform.
Conclusion
In this blog post, I shared my experience using Instamojo & Is Instamojo Safe to use. I have shared the pros and cons of Instamojo payment gateway. I discussed Instamojo paid plans, e-Commerce features and much more.
Frequently Asked Questions about Instamojo
What is Instamojo?
Instamojo is a payment gateway for Indian users. Instamojo allows user to sell products and collect payments online using 100+ payment modes.
How do I sign up for Instamojo?
Registering on Instamojo is very simple. Click here to sign up for Instamojo!
How much does Instamojo charge?
Instamojo charges 2% per transaction + ₹ 3 + GST ​​if you buy their paid plans. If you use Instamojo payment links, even if you are on a free plan, Instamojo will charge you 3% + ₹ 3 + GST.
Is Instamojo safe to use?
Yes, using Instamojo is very safe. I have been using Instamojo payment gateway for the last two years, so far I have no problem with Instamojo.
Here is a screenshot of our client's recent payment received through Instamojo.
What is Instamojo Customer Care no. ?
You can contact Instamojo via email and LIVE chat.
Email: support@Instamojo.com
LIVE chat is only available on working days. 10:00 – 17:00 (Monday – Friday).
Is Instamojo better than RazorPay?
It's hard to give you a straight answer. We use both payment gateways. In terms of features and user interface, both gateways are amazing.
The only problem with RazorPay is that the payment failure rate is higher compared to Instamojo.
Now You can decide yourself Is Instamojo Safe? I have guided you well to think about Is Instamojo Safe or Not for You?
Click here to sign up for Instamojo!
That's it from our side. If you like our efforts on Is Instamojo Safe, Please Leave a comment and share it to your friends.
Thank You